My Van Search – Take: One
I now have the search engines on varying platforms looking for suitable van candidates and I get plenty – almost too many – results, mostly due to insufficient selection options. And often regarding the desired measurements.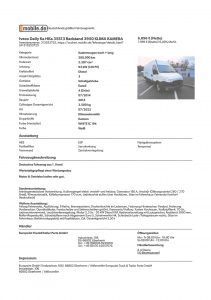 So I get tipped off to an ad by a company called "Europoint Truck&Trailer Parts GmbH" (in spitting distance to the French border) for a 156 in. wheelbase 2014 Iveco Daily (so about 21 ft. long) with A/C and backup camera and further descriptions such as:
"One-owner German vehicle" and
"regularly shop-maintained"
This can has 225,000 miles on the clock and is advertised for € 7,999 (VAT incl.). So, realistically, one cannot expect this to be even close to a new vehicle. But with a traceable service record, this may not be a problem – at least on the technical side.
---
The Phone Call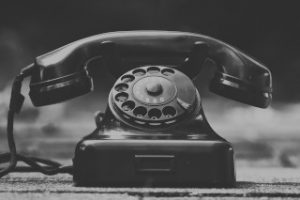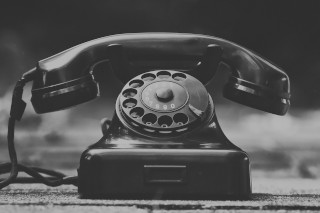 I make the call (on a Saturday). I'd like to view the vehicle on Monday. Since I will travel 220 miles one way, I'd like to be assured, that the van will actually still be there. I am also told, that the accrued miles are "long distance" and this had not been a parcel delivery van. We set a date for Monday noonish.
Claudia is so nice to offer the use of her Toyota C-HR – it has cruise control and is, according to her very personal opinion, safer than my 2003 Yaris puddlejumper. She's concerned. Well – o.k.
On Sunday night I send off a WhatsApp to the seller with the request to mount dealer plates prior to my arrival, so to be ready for a test drive. The reply: "Ok."
Since Instant Teller Machines are not very cooperative at providing larger sums of cash, I will have to frequent my bank on Monday morning. The Corona line extends well beyond the entry out onto the curb, so I brought a warm jacket and a good deal of patience. I arrive at the counter to be told, that my residence permit (this Canadian has no German citizenship) is not "machine-readable" and I could therefore only withdraw € 2,500 max. My persistence pays off though, their IT did after all accept my ID and I ended up with the desired amount.
---
The Journey
The clock was dangerously nearing the 10:00 a.m. mark, so I try to contact the seller. I get the answering machine and leave time and message, that I would arrive between 1 and 3 p.m. If this would cause a problem, I'd like to have a call back. I'm on my way.
The call gets returned a bit later whilst driving and inquiring about my arrival time. He tells me to take my time as he has another appointment and will be back by about 2:30 p.m. No problem – cruise control set to 60 mph.
---
The First Impression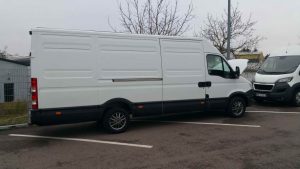 I arrive around 2:15 p.m., overlooking the sign "Entrance" on the garage door I press the doorbell. There is no answer, windows are rather dark – but all the "whities" are in front of the fence, so I can inspect the candidate already – even the sliding door is unlocked.
A hit on the upper right rear roof area, otherwise free of other bruises.

The bonnet has edge rust (at closer inspection underneath later, this would turn out to be the consistency of puff pastry) and a view past the wheel arches shows major rust on the body joints.

This continued in the cargo area, pretty worn and all panels (riveted to the body) played witness to a difficult life.

Rust around the heavily cold-formed metal wheel covers and the floor edges behind the backdoors would most likely involve extensive welding.

225,000 miles and 6 years of mistreatment left their marks. O.K. I did expect most of that.

A look at the brake rotors and touching the edges (this Iveco had mag wheels!) would estimate a wear of about 2-3 mm per side – these brakes were done for.

The (cheapest) rubber was of 2019 vintage with 3-4 mm tread, the left rear being the exception with 2 mm and it did not belong to the rest of the set.

Spare or repair kit: Obviously not.
---
In Detail
Oh, someone approaches me without a word (and without a mask). At least I introduce myself, the guy passes me the keys "…take your time looking it over, come to the office (pointing at it) after."
The remote causes a "Kaklunk" and I have access.
The driver's seat is worn out – no surprise here.

I turn on the ignition and I am greeted with messages regarding a defect license plate light and brakes requiring service.

The starter fights for a moment but gets the engine started. The idle is smooth.

Wipers / washer o.k., horn makes noise.

The air circulation switch is defect and

dash screws are missing (loose).
A short lights check:
One headlight without low-beam function,

sidemarker on the sliding door with a contact problem.

Lic.-plate light as mentioned earlier.
Key test:
Set complete,

lock on rear door plugged with dirt – unusable.
I open the bonnet.
I am faced with years of dirt, but nothing out of the ordinary.

Oil leaks on the battery side of the engine somewhere towards the bottom.

No tags as to cam belt replacement / oil changes or antifreeze levels.
So this is "shop maintained" nowadays.
Dealer plates were not mounted, so no chance to testdrive this thing at this time.
I enter the shop through the garage door. There are a few guys working on a number of vehicles, but it ain't clear, whether they are repairing or dismantling. A nice Mercedes 107 SL off to the side. I turn right into the office. The "key guy" is busy with his PC.
I address the brake problem, which apparently is none. "The brakes are fine." Right. And I immediately get to hear the 225,000 mile argument. Questions about the service records or receipts for repairs get commented as follows: "…they are probably with the prior owner." Excuse me? Even considering all the discovered issues (and explicitly not considering the overall body rot) – there will be no discount on the asking price. It becomes apparent, that this guy does not even want to sell the van to me. I put the keys on the counter and leave the little shop of horrors, shaking my head.
---
Conclusion
This is a curber to avoid. Buy it, park it, sell it for a profit.
My trusted Toyota dealer and former customer put it in perfect context today:
These guys come in and buy the cars from me, that I would not dare sell to my customers – I have a reputation to protect. I keep the good ones and sell those.
Well put.
If you do not even take care to fix the readily apparent issues (brakes, lighting) – especially with a potential customer coming to see the vehicle – then the customer is of no consequence. Someone will buy the thing. And that person better just keep their face shut and refrain from asking uncomfortable questions.
I am pissed, because the claim "regularly shop-maintained" can neither be proven nor is it apparent – judging by the brakes alone. These issues belong into the description or at least in the phone conversation, prior to someone making a 450 mile trip to view this vehicle.
At times like this I remember these words:
If something sounds too good to be true – it generally is.Mom
And for a pig in a poke with 225,000 miles, it ain't worth € 7,999.
The search goes on.
Related posts: