ISUM MF14 Update!
Update!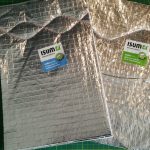 Today I receive the samples from Isum – so, first of all "Thank you very much!"
In the nicely presented advertising package I find 2 samples – individually marked as MF14 (closed to diffusion, indoor use) and MF14M (open to diffusion, outdoor use).
The MF14M probe differs through a needle perforation (manufacturer's name: "micropores") of the solid layers in an approx. 10mm grid. For outdoors – since unsuitable as a vapor barrier for indoor applications.
Otherwise both samples contain identical material:
(OS) An upper and lower layer which optically consist of a thin aluminum / plastic material and have fiber reinforcement. Very tear-resistant.
(DM) Insulation material, which visually resembles a vacuum cleaner filter in terms of its consistency.
(RD) Extremely thin layers, which are similar to the material of an emergency blanket from a car first-aid kit and which are also translucent.
(SF) foils that are similar to a thin PE foam foil.
In sum a total of 14 layers as follows:
OS – DM – RD – SF – SF – RD – SF – SF – RD – SF – SF – RD – DM – OS
I assume that the layers on the roll material are sewn with the red thread at intervals, as can also be seen on Mathis' video at 0:32.
---
Sometimes the success lies in the combination of materials and so the manufacturer's specifications and claims are quite possible.
RWTH Aachen University, the Fraunhofer Institute and the Bavarian Center for Applied Energy Research have also carried out tests here. Which properties – perhaps only the individual components of the film – have actually been tested, is unknown to me.
But there is definitely an official, building authority approval.
Would I bet my build on it? Not at this point.
BUT:
With the Schrämper colleagues (Studio Osterhenne) and others I see the product as a great addition to the wood / styrofoam wall and ceiling construction of older partially and fully integrated mobile homes. The foil is not particularly bulky and adds a vapor barrier to the insulation.
The material can also be used as a window covering and thus offers protection against summer sun and winter heat loss at the large thermal bridges.
Any takers?