Space Wallet? – an encounter of the third kind.
This is no product placement or advertisement. I have and will not receive funds or goods because of this article. I am merely reporting on a customer service experience.
It could have been a great day – I need to plug the parking meter in the city of Herne and pull my wallet. Or more to the point:
A small, flat case that can be used to carry personal items
Wiki result for -Wallet-
That closely describes this "Space Wallet" – minimalistically tiny und a great gift from Claudia about two years ago.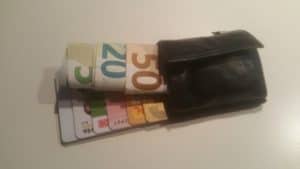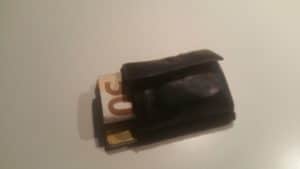 But I digress.
The moneythingy leaves my pant pocket, the coin compartment unwillingly opened and the contents get distributed – partially not to be recovered – on the street and beneath parking cars.
I curse and I am miffed, that I removed the wallet in a fashion, that opened the little snap somehow.
My fault? At closer inspection I find the snap had detached from the flap and the inner lining. Annoying.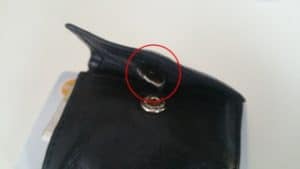 ---
As this was a present I do a little research and find myself on the big "A" site and get two pieces of important information:
It's 44 Bucks (for approx. eighteen square inches of leather, approx. some sixteen square inches of stretchfabric, a snap and sewn on logo) – you do the math on material, labour cost, etc.
I am apparently not alone with the problem of a detached snap.
I read the reviews and the "crisis-management" responses:
One should contact "Space Products" and one would find a solution.
Sounds promising – somehow.
So I write an email.
Not a scalding one, rather full of praise, as I really am taken by the use of this little wallet and people continuously ask me, what exactly that is.
But it's rather pricey and I find a defect like that rather disappointing.
I receive an answer within the hour:
Dear Volker, many thanks for your message and your feedback.
We are very pleased, that you have enjoyed your Space Wallet and that it supported your everyday life. Naturally, we understand your disappointment and that the product has remained defect-free for only 2 years – that should not happen and does not comply with our (quality) claim.
Our products are manufactured from the finest leather within the EU, so the price of € 29.95 is justified.
We'd be glad to offer you a discount, so you can purchase a new wallet at a reduced price.
Best regards from Bayreuthan employee
So pretty much the same formletter the rest of the "A"-community was fed with. By the book. I should know, I do coach my dealerships the same way.
So I reply politely, not recognizing some discount for another purchase as a fitting compensation for the lost coins and a defect, that should not have occoured like that. They can surely do better than that.
I would also like to report on a positive customer experience and request information, whether I could use their logo in my story.
Silence for 24 hours. Today I receive a message via FB:
Hey Volker,
sorry to hear about your broken Space Wallet.
Maybe visit our facebook page every now and then – there's some contests every now and then where you can win a new wallet!
Good luck with that and have a great week.(Name) from Space Products
Seriously? "Good luck with that and have a great week"? Screw you too.
Whoever wrote these lines should have her keyboard revoked. (This was actually the final trigger for this post)
---
As I do not have a suitable replacement wallet, I decided to "repair" my "Space Wallet":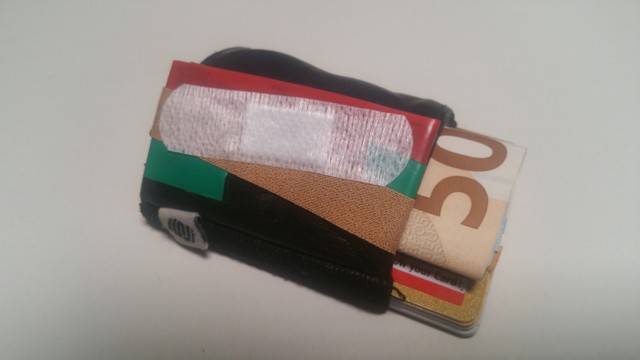 …and there were some interesting inquiries at the supermarket checkout!
---
Today I receive an unexpected message from my eMail counterpart.
One persists, that defects like that are the rare exception and ups the peace offering:
I am now to receive an additional product (valued @ € 15) in addition to the (still undefined) discount.
Folks, I don't want anything additionally – I really just want a functioning replacement.
So, again. 3rd mail.
I now explain, that this entire ordeal could have been ended by a simple "Defect? Send us your address, we ship a replacement" after the very first mail.
Thus far an undefined discount, addtional stuff (that I don't want), justifications and well meant wishes via FB.
I also do not wish to write any more – enough is enough. Everything from here on would be only seen as damage control anyhow. This parrot is dead – it seized to live.
Now the "head of operations" enters the field via eMail.
There are apologies for the caused inconviniences, plans on a one-on-one with the FB-fairy and there is an actual offer for a replacement.
Sure, we can do this, but this won't bring the parrot back to life. We'll see what this offer is worth (I would add a corresponding addendum here).
One can only hope, that the responsible people see this post as an inspiration, to take a closer look at their customer service and coach their (mostly very young) employees to a better standard. As such, it's just a worst-case textbook example.
Anyone has the opportunity and can feel welcome to comment here (and yes, that includes the Space Products company as well).
ADDENDUM – Oct. 29, 2019
After a rescheduling of the delivery date by GLS from Friday to Monday, the door bell rings at 10:45 and the GLS driver hands me a small parcel – the promised replacement has arrived.
The leather is "granier" and not as smooth to the touch, the stitches are much closer, the push button connects much tighter and the flap to the coin compartment has bevelled edges. Subjectively speaking – an improved product. How it will fare in daily use will remain to be seen.
At this point a definitive "Thank You" to the management is in order – they have kept their word.
So, starting today I am again travelling with an intact wallet.