ShirtPocket – or how I lost my license.
This is not a product placement or promotion. I have neither received nor will I receive any money or goods as a result of this contribution. I am only reporting on a product use and a customer service that I have experienced.
UPDATE July 13th, 2021 – see end of article
Our old MacBook Pro.
In 2010 originally Paul's computer, then it somehow got into the hands of Claudia, recently the old pal suffered a major hard drive failure. The last backup was unfortunately overwritten too – but much of it was backed up on my NAS. But every loss is a bit of a disaster – Claudia misses some of her documents. If I'm usually a fanatic when it comes to security tasks, this time I failed miserably. All my fault.
MacOS did not want to install from the DVD on the 500GB 2.5 inch disk that was i had found in my bin, so I tried Linux (Mint). What initially looked like a successful installation turned out to be an extremely unstable affair. Graphics driver and printer drivers bucked, crashes made me reboot the aluminum marvel every half hour. Maybe the mainboard was screwed up as well? HD, DVD and mainboard were therefore questionable – usually a case for an advertisement on eBay classifieds. Macs are still popular.
---
Be creative.
Now I'm sitting at home during our recent rainstorm and I'm on YT. Soon I discover the possibility of an "Internet Restore" via network by holding down three keys during the boot process. And – it worked! macOS High Sierra (the last possible version on this old Mac) shines in virgin splendor. The MacBook has the maximum RAM configuration with 8GB, first tests run smoothly, only iCloud could not be convinced of my identity. The problem was only resolved after a 43-minute phone call with Apple Support. Free of charge I may add.
In 2007 I already acquired the license for a backup product on my MacMini, which from there on accompanied me on all my Macs. With SuperDuper! Backups and images of the hard disk could be created on external media – with the image you could even reboot the computer in case the internal disk went byebye. TimeMachine (Apple's own backup product) is much more complicated to use.
In 2017 we bid farewell to the Mac Mini and SuperDuper! moved with it's license to Paul's MacBook Pro. At the time I still had the order number and the corresponding order data, what was missing was the actual license number. So I contact ShirtPocket, they referred me to their e-commerce provider eSellerate. After a little research they send me a text message with a license number. Thank you very much.
---
The journey begins …
And now, guess what.
Yes, this license number also somehow got fumbled and was not found for yesterday's reinstallation. I tried my luck with eSellerate first – they have disappeared into the depths of the internet. With a blush on my cheeks, I turn to ShirtPocket and the boss – Dave Nanian again.
Now he explains to me that eSellerate is no longer among the living and that the license recovery service is inevitably lost as well.
And so that my privacy and compliance with the GDPR (General Data Protection Regulation, the legal framework of the European Union and the general data protection regulation) would  be protected, the information at ShirtPocket was not retained (what all of this has to do with GDPR escapes me, after all, I'm a ShirtPocket customer?). So if I lost the license, there is no way I can get it back. So I am asked again whether I still have the number somewhere …
Nope, I don't. I briefly explain why I no longer have the number and simply ask for a new key to be generated (the emails with order details from 2017 are attached).
---
Here is the unabridged answer:
"Sorry, I can't. We have never billed for updates (so your 14-year-old license was still good), and I hope you feel you've gotten enough benefit from it. . a new license can also work natively with M1 Macs if you get one of them but not the old one (since we cannot validate eSellerate licenses "natively" under M1, only with Rosetta). "
You recognize my license, but actually decide that it has to somehow expire after 14 years and that I should buy a new license (at € 28.56)? The fact that updates were free has more to do with the 2007 contract details. I have been receiving free updates for many programs for years – this is not unusual in the software market.
I don't need a "new" license either – the MacBook is 11 years old and "Rosetta" has never been an issue. And "I can't do that" rather means: "I don't want to do that".
To be clear here: I am not interested in saving € 30. It is about the principle and the use of flimsy arguments to squeeze money out of a customer who just lost a license number.
So I communicated that to Dave accordingly. When all is said and done, he does not receive € 28.56, has lost a customer and bought himself bad publicity.
And anyone who asks me about a backup solution for the Mac from today will be told this story.
---
Conclusion: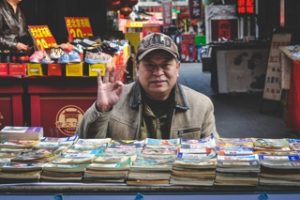 My daughter would say: "Your circus, your monkeys."
Forrest Gump rather: "Stupid is as stupid does."
I no longer expected or received an answer. So now I'm using Time Machine.
Lost a customer and won a review (also on FB!).
Congrats, Dave Nanian – a truly brilliant business decision.
An answer came after all. They explain to me in so many words how it is not Shirt Pocket's fault that I no longer have my license key and they "feel" that I would be shifting responsibility to Shirt-Pocket. And they couldn't do anything about it because eSellerate no longer exists. And if I lost my (Toyota) car key, then I wouldn't get a new key free of charge either.
My "feeling" is a little different. This was a support case for a paid product. And comparing a virtual service with a car key to be produced, borders on an insult to the intelligence of the other person.
I could always use an unregistered version (with a very limited scope of services). That would also come with support.
FY very much.